Stainless steel is a corrosion-resistant alloy. The chromium in stainless steel creates a coating that shields the metal and self-heals in oxygen. Stainless steel is often rolled or formed into tubes or pipes for use in multiple industries. The circular shape of stainless steel pipes makes them incredibly strong. Read More…
Stainless Steel Pipe
A stainless steel pipe is a long tube made of stainless steel that is used to carry water, oil, gas, or other materials.
How Stainless-steel Pipes Are Made
Stainless steel is created from nickel, iron ore, chromium, silicon, molybdenum, and other raw components fused together. The manufacturing process of the stainless-steel pipes goes down in several stages, which can be done by hot rolling or cold rolling.
Automatic rolling mills are used to make hot-rolled stainless steel seamless pipes. First, manufacturers take a solid tube blank and inspect the surface to remove defects. Next, the solid tube blank is cut to order, heated in a heating furnace, and punched.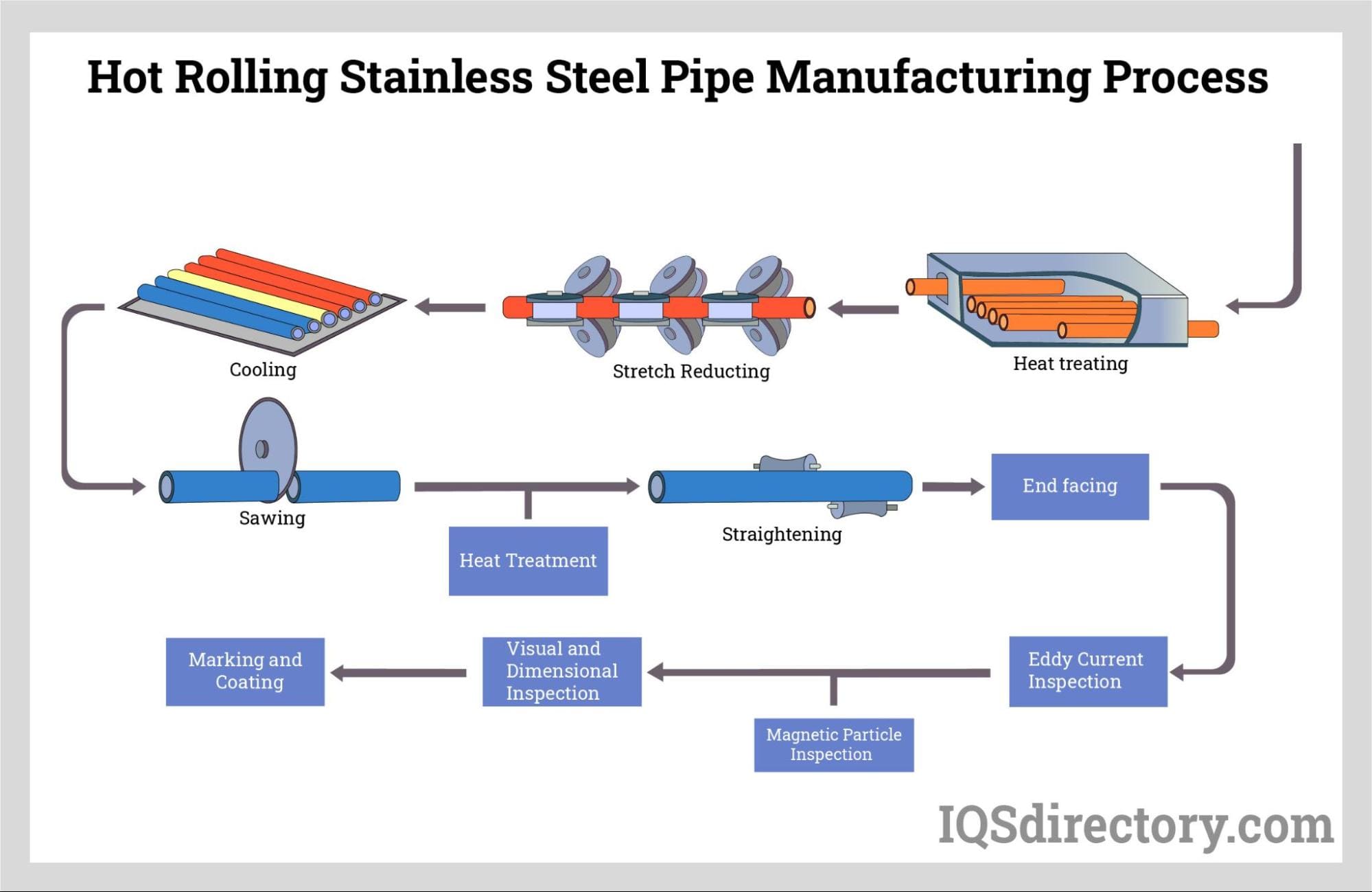 Manufacturers use cold rolling or cold drawing to make smaller seamless pipes. Cold-rolling is usually done on a two-roll mill. Stainless steel tubes with small diameters can also be made through extrusion.
Types of Stainless Steel used In Piping
There are several stainless steel pipes present in the market today. When the microstructure of stainless steel is altered, its characteristics also change. Stainless steel can be categorized as austenitic, martensitic, duplex, super duplex, precipitation-hardened, and ferritic.
Applications
Stainless steel is frequently used for desalination because of its strong corrosion resistance. Sanitizing chemicals won't destroy stainless steel pipes, so pharmaceutical firms use them extensively. Stainless steel pipes are used in the dairy industry and food processing.
Stainless steel pipes are an obvious choice for low maintenance and corrosion-resistant applications. These pipes can be found in products like heat exchangers, fluid piping, LP/HP heaters, automobiles, evaporators, digesters, and surface condensers.
Advantages of Stainless-Steel Pipes
They have a higher strength-to-weight ratio.
Compared to steel, stainless steels are significantly more resistant to erosion-corrosion brought on by high flow rates and particulate matter. As a result, manufacturers can pump various media through stainless steel pipes at high speeds without damaging the pipes.
Compared to corroded or old cement-lined steel pipes, stainless steel maintains low hydraulic friction qualities, reducing water pressure losses and lowering pumping costs.
Pipelines are easier to handle and install because stainless steels have good elasticity and can be bent and welded into lightweight shapes.
Disadvantages of Stainless-Steel Pipes
Stainless steel pipes are much more expensive.
They have very poor thermal conductivity.
Choosing the Proper Stainless Steel Pipes Manufacturer
To make sure you have the most positive outcome when purchasing stainless steel pipes from a stainless steel pipe manufacturer, it is important to compare at least 4 to 5 manufacturers using our stainless steel pipe directory. Each stainless steel pipe manufacturer has a business profile page that highlights their areas of experience and capabilities and a contact form to directly communicate with the manufacturer for more information or request a quote. Review each stainless steel pipe business website using our proprietary website previewer to get an idea of what each company specializes in, and then use our simple RFQ form to contact multiple stainless steel pipe companies with the same quote.
Stainless Steel Pipes Informational Video